French Connections :
Miscellaneous information regarding the French "de Tonge" family, descended from the Lancashire Tonge family of Tonge Hall.
In May 2004 I was contacted by Philippe Asheton de Tonge from Cannes on the French Riviera. He informed me that his great grand father was Henry Asheton Tonge from North Manchester.
Philippe is one of four brothers, the eldest of whom is Henry de Tonge, founder of the furniture manufacturing company "de Tonge". Philippe himself is the managing director of the company Ligne Metal. Their father was Baron Ludovic Asheton de Tonge, an antiques dealer.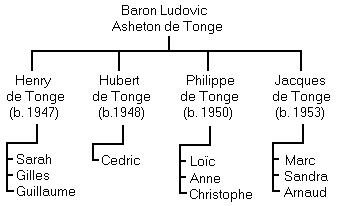 Philippe suggested that Henry Asheton Tonge was, for some reason, "obliged to leave England", and settled in France, where he was called Lord or Baron. I found, on the Internet , reference to Henry (Asheton) Tonge, which stated that his dates and marriage details were as follows (I have been unable to substantiate these details):
Henry Tonge 1847-1917 & Mélanie PUCHOT 1860-1945
Also from an unsubstantiated source on the Internet, the following details of Philippe's parents:
Ludovic Charles Henri Asheton de Tonge & Colette Barrois

---
Coat-of-arms (from Héraldique)

de Tonge

D'azur, à la bande cannelée d'or, accostée de 2 cotices du même, et chargée en abîme d'un lion léopardé entre deux grappins du champ, les stangues vers le chef; à 6 merlettes du second posées en orle.
http://www.euraldic.com/ecus_lt.html
o James Fletcher Tonge & Mary Anne SUGDEN
o Henry Tonge 1847-1917 & Mélanie PUCHOT 1860-1945


o Ludovic Charles Henri Asheton de Tonge & Colette Barrois
o Philippe Jean Marie Asheton de Tonge & Isabelle Marguerite Schmitt
o Loíc Henry Marie Asheton de Tonge
o Anne Nathalie Asheton de Tonge
o Christophe Bertrand Marie Asheton de Tonge


+Henry DE TONGE
+Hubert DE TONGE
+Philippe DE TONGE
+Jacques DE TONGE